Coffee in Perth can be spendy - $4-5 for a long black is the norm. If you take the time to look around, however, you can find a good coffee at 'Melbourne prices'.
Exotiful, a little African eatery at the Station Street Market, offers single shot long blacks for $3. It's good coffee too, in my opinion. Quite light and sharp, not too bitter. That said, I'm not very fussy when it comes to coffee, so your mileage may vary.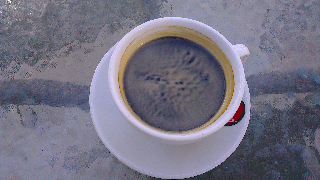 Another cheap coffee in Subi right now is at Cafe Vero. Coffees are normal Perth prices, maybe $4.30 (I didn't check) but if you shop at Coles over the road you will likely get a 2-for-1 voucher on the back of your receipt. It's slso good coffee but very different to exotiful. Thick, strong, bitter, choclatey, almost sticky.